When printing the $ 25.00 coupon and giving it to the service technician, please print your name and phone number on the coupon.
This coupon can be used with any residential service over $ 140.00
Wasp, Cluster flies and spider season has begun!
If you notice a hanging wasp or hornets nest, or you see them going in through a hole and you would like a professional to come out and eradicate the problem.
Then give us a call and we'll have a tech. get out there ASAP !!!
Yes spider season is here again and we're ready for them.
You ever notice one house has spider webbing making the house look like it could use a fresh coat of paint or could use a serious cleaning on the outside and the house beside it looks clean and fresh?
Nothing de-faces as house worse then insects trapped in spider webbing all over a house.
That clean looking house is likely to have had a spring or fall or both spider spray treatment every year.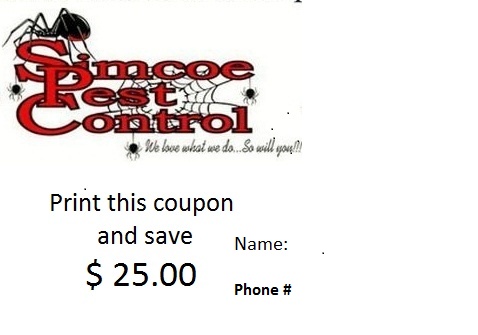 Print off the coupon, give us a call and we're good to go !
If you are looking for professional pest control in Innisfil, and the Simcoe Country area, then Simcoe Pest Control is here for you. Please contact Simcoe Pest Control for more information about our services.
GET IN TOUCH NOW. START TODAY.
Click on the "Talk Now" button to contact us immediately via telephone or click
on the "Live Help" button to chat with our online receptionist. Our receptionist is standing
by Monday to Friday from 9 AM to 8 PM (EST).